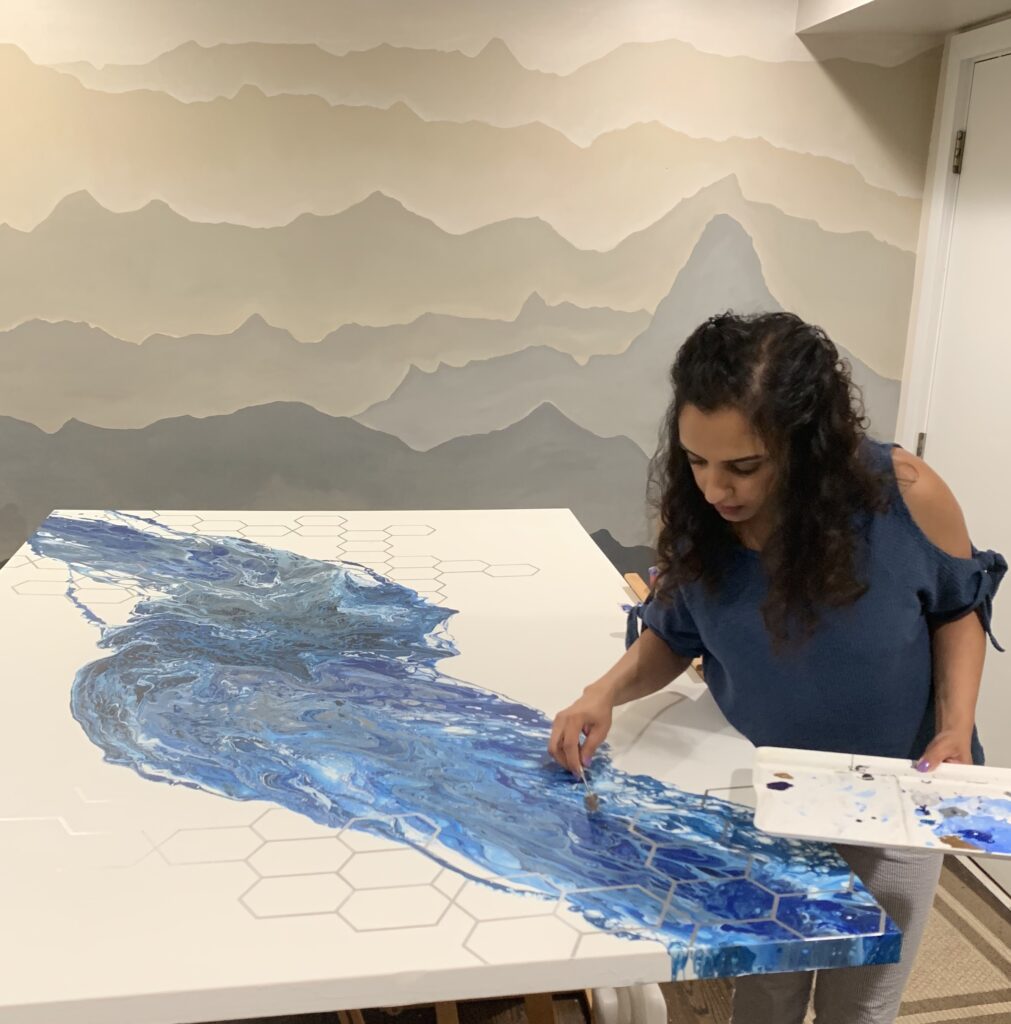 Custom Artworks
If you have a unique design or size in mind for your space, a custom commissioned piece provides the flexibility to incorporate your ideas in collaboration with the artist's signature style on a piece of art that meets your requirements for the space and style.​ I enjoy working closely with my clients to try to produce artwork that would reflect their thoughts, onto a canvas.
Required Information
SIZE
The first step in the commission process is to determine the size of the space and if the client envisions one or multiple pieces of artwork in that space. Feel free to email photographs of the room and wall measurements if you would like input on finding the perfect size. It is important to see the color palettes incorporated in the room, the furniture and any other pieces or artwork that may already be present in the room or the immediate space. ​
ORIENTATION
Select whether your artwork will be hung landscape or portrait. ​
COMPOSITION AND COLOR PALETTE
This can be established by emailing 1-3 screen shots of my previous artworks that you connect with and further discussions on composition and color choice can proceed from there. I ask my clients to understand that I work intuitively and this is my starting point. Every piece of art is unique and the images you provide serve as a guide through the composition of the piece. Please note that I do not recreate exact compositions.​
OTHER INFORMATION
For the quotation I will need the following information: 1. For Shipping purposes – where will the artwork be going to for example, International or within U.S.A? 2. Materials; Please select if you would like the painting on stretched cotton canvas or primed linen. Also request framed or no frame, I build custom floating frames to compliment the painting. ​
Commission Process
COMMISSION SLOT
My calendar is divided into scheduled commission slots. You will be notified of my earliest availability on enquiry. Generally custom pieces take up from 6-8 weeks to create (depending on size).
DEPOSIT
To secure your scheduled slot, a 50% non-refundable deposit is required prior to commencing work. Payable via PayPal and balance due on completion (prior to shipping/ pick up).
PROGRESS
During the creation process I will email/DM (Direct message) progress pictures with updates for approval. ​
AMENDMENTS
Each quote allows for up to 2 minor compositional amendments. Further changes can be requested at an additional fee (quoted separately).​
OTHER
Please note there are no returns or refunds on custom requested artworks.